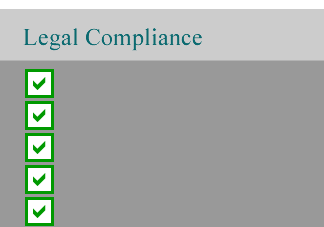 Legal Compliance
Anyone who lets residential accommodation has legal obligations to ensure that their property is all in order for guests to use safely. Therefore these legal compliance points mentioned below are a priority. If they are relevant to your property, they must be scheduled-in and carried out on a regular basis and kept a record of.
Fire Risk Assessments
It is important to assess the possible dangers, whilst advising guests of the risks and actions to be taken in case of a fire (such as where the fire extinguisher and smoke alarms are located, how to exit the property etc.). If you do not have a completed fire risk assessment for your holiday let, there is a risk of a prosecution in the event of a fire at the property.
Gas Safety Certificates
As a landlord, you must have a 12 monthly gas safety check on each gas appliance/flue. The Gas Safe engineer will then provide you with a record of his check.
PAT Testing
There is some uncertainty regarding P.A.T testing and the frequency with which it is required to be carried out, but it is important that all electrics are deemed safe and in good working order. This is a simple test to be carried out by a qualified electrician on all portable electrical items in the property. Newly purchased items do not need PAT testing as they are deemed safe to use.
Insurance Checks
Out of season, we can provide regular scheduled property checks on a fortnightly basis or as and when you require. Insurance companies will often seek evidence that Second Homes are checked at regular intervals in order to validate any potential claim along with a written record of all checks. Claims can be reduced or mitigated if slipped slates, loose chimney pots, broken branches, blocked drains or burst pipes are spotted in time and rectified quickly. Through careful property management and good housekeeping, owning a second home or holiday home need not be stressful. With this care, insurance premiums can be sustained at sensible levels.
Access Statements
From April 1st 2007 it became a statutory requirement for owners of letting accommodation to provide an Access Statement for guests. It is also required as part of the VisitEngland grading. The statement will include important information on the property inside and outside, providing guidance on access to all of the main facilities. It is most helpful to guests, prior to their arrival, to understand the layout and general dimensions in the property and to ensure that the property is suitable for them in many respects.
VisitEngland Pre-Assessment Checks
VisitEngland star ratings are promoted by many letting agents and will provide potential visitors with the assurance that your accommodation has been independently assessed. We can provide a detailed inspection prior to the official grading that can find any missing inventory items, and detail any work necessary to achieve the desired rating level.